Southern Lakes English College, established in 1993, is one of the oldest language schools in New Zealand and we operate in two cities – Queenstown and Invercargill.
We aim to help our students integrate into the community. This will enable our students to live a real "Kiwi" lifestyle – participating/making friends in the communities and finding employment whilst studying. Each campus caters to around 200 students each year from 20 different countries.
Facilities and activities available at Southern Lakes English College
Southern Lakes English College is owned by the Southern Institute of Technology (SIT). SIT is a government owned tertiary institution with five campuses around New Zealand catering to over 13,000 students each year. SIT offers over 250 mainstream programmes from Certificates to Master programmes.
Our Queenstown College is located downtown in modern premises, and our Invercargill school is located on the SIT campus. Classrooms facilities are well maintained with excellent free Wi-Fi.
There are plenty of organised activities undertaken by the college itself. There are bus rides to different cities for a day visit, monthly Pizza Days, celebration of different National Days, sporting activities with the community.
Courses available at Southern Lakes English College
We are an offsite testing centre for IELTS and Cambridge FCE and CAE examinations, and a public testing centre for TOEIC. A number of our programmes are also available online.
With our relationship with SIT, we have access to the Pearson Testing Centre. As such we run English Language programmes focused on Pearson, Cambridge IELTS and others.
One of the best pathway programmes that Southern Lakes English College has is the Zero Fee English Scholarship. This is for a 26-week Free English Scholarship programme provided to students who are also conditionally enrolled on a Mainstream Programme at SIT. The most popular pathway is the Zero Fee English Scholarship for 26 weeks and then moving onto the Graduate Diploma in Construction level 7 for one year. Some of the SIT Mainstream programmes will allow students to bring their spouse and family. Their spouse will also receive a work visa (terms and conditions apply).
The style of teaching and classroom environment
The College has 18 permanent staff members with an average teaching experience of seven years. Students get a lot of individual attention in a constructive and nurturing environment. There is a great nationality mix with students on average from over 20 different countries and class levels ranging from beginner to advanced.
The New Zealand Qualification Authority (NZQA) has ranked Southern Lakes English College as a Category 1 college based on its External Evaluation Review. This means that our college has received the highest ranking for Educational Performance and Capability in Self-Assessment.
Accommodation options for international students
Both campuses offer apartment-style student accommodation, homestay and flats. The College provides assistance in securing appropriate accommodation for students.
A rich student experience
As an international English language student at Southern Lakes English College, you can look forward to a memorable English academic journey, making friends and enjoying what a New Zealand lifestyle has to offer!
Special Courses
Zero Fee English Scholarship if transferring to an SIT Mainstream Programme
General English
Examination English
English Plus Adventure
English Plus Work Placement
English Plus Skiing/Snowboarding
Facilities
Main Countries Students Are From
Southern Lakes English College
57 Shotover St
Queenstown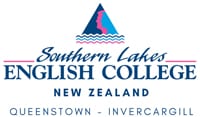 Enquire now with the Southern Lakes English College
Southern Lakes English College - Invercargill
Our Invercargill Campus, in the very south of New Zealand, is a great choice for students wanting a friendly, safe, and peaceful life, with fantastic access to a range of outdoor activities. Southern Lakes English College (SLEC), an NZQA Category 1 school, offers high-quality English lessons, and provides the opportunity...
Southern Lakes English College - Queenstown
SLEC welcomes you!  Our school was established in 1993 and is a modern NZQA Category 1 (highest NZQA classification) school in the heart of Queenstown. In the south of the South Island, Queenstown has four seasons of beauty. It is known as the adventure playground of New Zealand and is...