Bridge International College is located in a lively street in the heart of Auckland CBD surrounded by fantastic cafes, galleries and shops.
Albert Park, a popular lunchtime location for city workers and students, is on our doorstep and Auckland Art Gallery, Sky Tower and movie theatres are all very close by. Auckland's famous harbour, and the Britomart shopping area are a short walk away. 
Facilities and activities available at Bridge International College
Bridge campus is in the ICL Education building. There is a student lounge, with a café which offers lunches, snacks and barista coffee, areas to relax on each floor, kitchen facilities including microwaves, and a pool table.
Courses available at Bridge International College
At Bridge, we recognise that each student is different and your teacher will work with you on your individual learning plan.
We encourage our students to practise their English language skills through a range of activities including class outings in the local area and whole-school activities in the school.
The style of teaching and classroom environment
Our passionate, qualified and experienced teachers are committed to making classes relevant to your needs. They work hard to prepare lessons that are intensive, informative and fun and which cover the fours skills, grammar and vocabulary. Teachers will give you regular feedback on your progress and help you to achieve your goals.
You will be given lots of opportunities to practise and to communicate in English, and your teachers will make sure that you learn the language and skills to do this.
Accommodation options for international students
Our homestay service can organise accommodation with one of our host families. All homestay accommodation is carefully selected and Bridge complies with The Education (Pastoral Care of International Students) Code of Practice 2016.
A rich student experience
Outside of class times, there is plenty to do in Auckland. Bridge can also help you with weekend excursions to all of the most popular areas in the upper North Island.
We look forward to welcoming you to our school.
Special Courses
Facilities
Main Countries students are from
Special Courses
IELTS Preparation
NZCEL Levels 3 and 4
NZCEL Level 5
Uni Bridge (English for Academic Purposes)
PTE (Pearson) Preparation Course
Facilities
Main Countries students are from
Bridge International College
ICL Education Centre
10-14 Lorne Street
Auckland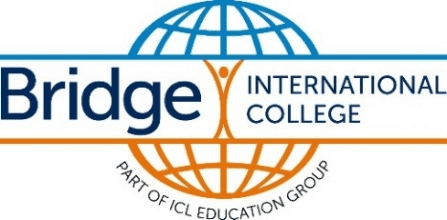 Enquire now about Bridge International College