SLEC welcomes you!  Our school was established in 1993 and is a modern NZQA Category 1 (highest NZQA classification) school in the heart of Queenstown.
In the south of the South Island, Queenstown has four seasons of beauty. It is known as the adventure playground of New Zealand and is a perfect location to learn and improve your English. Yes, hiking, skiing, paragliding, bungy jumping, mountain biking, and a social nightlife are just some of the activities you can try here!
Facilities and activities available at Southern Lakes English College - Queenstown
Our school is in downtown Queenstown and close to Lake Wakatipu. Modern purpose-built classrooms are equipped with teaching technology, and a self-study area with computers and library materials allows you to continue your studies outside of class time.
The Student lounge has a table-tennis table, a piano and kitchen facilities, and a gym is located right next door to the school. All students have access to free wireless internet.
Additionally, at SLEC you'll have access to:
Free study clubs – exam skills or conversation skills
Job club – free advice and help with your CV, IRD number and setting up bank accounts
Work assistance – one-to-one help with work
School Social Activity Program – engage in our free weekly activities
Courses available at Southern Lakes English College - Queenstown
SLEC has General English (beginner to advanced) and Academic English (preparation for examinations).
Our school is an official testing and exam preparation centre for Cambridge, TOEIC and other exams. Our academic classes prepare you for IELTS, PTE, Cambridge First & Advanced examinations.
Pathways Programmes are NZQA-approved and prepare you to progress to partner tertiary colleges and universities where you can graduate with a range of diplomas and degrees.
The style of teaching and classroom environment
The Queenstown Campus has 10 permanent staff members with an average teaching experience of seven years. Students get a lot of individual attention in a constructive and nurturing environment.
There is a great nationality mix with students on average from over 20 different countries, and class levels ranging from beginner to advanced.
Accommodation options for international students
The College provides assistance in securing appropriate accommodation for students; options include apartment-style student accommodation, homestay and flats.
A rich student experience
As an international English language student at Southern Lakes English College, you can look forward to a memorable English academic journey, making friends and enjoying what a New Zealand lifestyle has to offer!
Special Courses
Zero Fee English Scholarship if transferring to an SIT Mainstream Programme
General English
Examination English
English Plus Adventure
English Plus Work Placement
English Plus Skiing/Snowboarding
Facilities
Main Countries students are from
Southern Lakes English College - Queenstown
57 Shotover St
Queenstown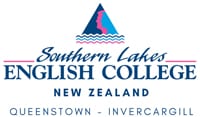 Enquire now with the Southern Lakes English College – Queenstown