Ara School of English Timaru campus is located in the beautiful seaside city of Timaru close to the scenic beauty of the Southern Alps and lakes. It is a place where you can enjoy the outdoors.
On the same day in Timaru, you can mountain bike, snowboard, and surf. White water rafting, golf, kayaking, fishing, hunting, horse riding, walking and hiking, sailing and 4 wheel drive tours are all popular activities. Timaru has a popular gym that our students can join
Facilities and activities available at Ara Institute of Canterbury - School of English, Timaru
We have a special area in the Library at Timaru where students can work independently to improve their English after class. Our Library is a very friendly place where you can also borrow books on a range of subject areas and practise your English skills.
The student common room is where you will get the chance to meet New Zealand students and students studying at Ara from a range of different nationalities. Our International Student Advisor will introduce you and help you to adjust to living in New Zealand. 
There is a range of community events held in Timaru including the Caroline Bay Carnival, Festival of Roses, and Motor Sports Racing.
Students have access to free packing right next to the campus.
Courses available at Ara Institute of Canterbury - School of English, Timaru
Successful completion of our Level 3 Applied Academic or Level 4 NZCEL programme at Timaru will give you entry to a number of academic study programmes at Ara Institute of Canterbury in Timaru and Christchurch. Ask about our scholarship programme for students considering further study at Ara.
The style of teaching and classroom environment
Our small class sizes in Timaru ensure you will have individual attention to improve your English Language skills. Evaluations from our students show they appreciate that the teachers are highly qualified and experienced language teachers. You will enjoy the friendly and personalised teaching style at Timaru.
Accommodation options for international students
Timaru offers exceptional homestay opportunities for students learning English. There is a shuttle bus service from Christchurch International Airport to Timaru. Your friendly hosts will include you in their family activities and you will feel welcome.
A rich student experience
Studying English at Ara Institute of Canterbury's Timaru campus, offers you a unique experience in an friendly and welcoming environment. After class you can relax at Caroline Bay or enjoy horse riding, or relax at a nearby café restaurant. Everything is in an accessible distance so you can take advantage of being in a city that is the right size.  Plan a day trip to Lake Tekapo during the weekend.  
Special Courses
NZCEL Level 3 Applied Academic, Level 4 Academic
General English
Facilities
Main Countries students are from
Ara Institute of Canterbury - School of English, Timaru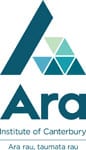 Enquire now with the Ara Institute of Canterbury – School of English, Timaru
I'd heard good things about this institute. The programme covered reading, writing, listening and speaking, I learned through topics and interactive classes, and by learning outside the classroom. We also made presentations on different topics to classmates and to other classes. I'm planning to become an early childhood educator, to continue studying at Ara and hopefully get a job at an early childhood centre.