Ara Institute of Canterbury – School of English is centrally located in the garden city of Christchurch, the largest city in the South Island of New Zealand. You will enjoy learning English on campus with local students who are studying a range of vocational and professional programmes. 
Close by the school is the city's restaurant and shopping districts.  Situated between the Pacific Ocean to the east and the Southern Alps to the west, our environment is naturally beautiful and offers outstanding recreational and cultural opportunities.
Facilities and activities available at Ara Institute of Canterbury - School of English, Christchurch
Our facilities include purpose built classrooms providing the latest technology in language learning such as our digital language laboratories and our many computer labs. We have great areas on campus for relaxation too. An example of this is our on-campus training restaurant and café where students can meet friends and have meals at discounted prices while being served by local students.
Our amazing on-campus events programme and student activities programme will provide you with many opportunities to interact with local students. Adventure sports like surfing, kitesurfing, skiing, snowboarding and kayaking are all on your doorstep. Golfing is enjoyed all year round and green fees are low cost with more than 30 stunning courses to choose from in the region. There are several arts, music and cultural festivals held in our city each year.
We have language exchange activities where students can learn to practise their English while teaching our local students about their culture and language.
Courses available at Ara Institute of Canterbury - School of English, Christchurch
Our elective programme structure is unique in that it offers students at Intermediate level or above an opportunity to focus on those skills required to meet their academic or career goals. For example, students can study General English in the mornings and Speaking and Listening, English for Work or English for Academic Purposes in the afternoons.
We also teach other languages on campus such as Japanese, Samoan and Maori. The international atmosphere is welcoming.
We are an approved examination centre for the IELTS, Pearson Academic (PTE) and OET examinations.
Our School is a Cambridge approved teacher training institution where trainee teachers can learn the latest methodology for language teaching and complete an internationally-recognised teaching qualification, the Cambridge CELTA.
The style of teaching and classroom environment
Our highly qualified teaching staff are known for their warm and caring reputation and enthusiasm for helping you settle in to your new city and home. They have a real passion for language learning with some having experience teaching English overseas.
We practise the communicative language teaching method which aims to maximise exposure to native English. Many of our teaching staff are engaged in post-graduate study and research.
Accommodation options for international students
Staying with one of our friendly homestay families is strongly recommended as all of our homestays are carefully selected and supervised. You will have your own room, meals with the family and the opportunity to practise your English every day. Other accommodation options are available on request and sometimes students choose to become more independent and stay with local students once they have settled in to Christchurch.
A rich student experience
While studying English Ara Institute of Canterbury's Christchurch campus, you can meet students from all over the world, with people from many different cultures and backgrounds. If you are into mountain biking, Christchurch Adventure Park is a place for you. For a vibrant dining experience you can visit the latest Riverside Market or The Terrace for a quick drink or nice meal. In summer, you can visit the New Brighton beach or Sumner beach for a swim.  In the city centre of Christchurch there are s many things to do.
Special Courses
IELTS Exam Preparation
English for Academic Purposes
English Plus Volunteer Work
NZCEL from Level 1 Foundation to Level 5
Foundation Studies (Study & Career Preparation)
Facilities
Main Countries students are from
Ara Institute of Canterbury - School of English, Christchurch
130 Madras Street
Christchurch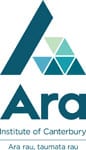 Enquire now with the Ara Institute of Canterbury – School of English, Christchurch
I chose to study English so I can communicate with people in business. My friend's brother graduated from CPIT and he said there were a lot of international students here. It's also a place where you can have new experiences. I didn't learn much about pronunciation in my hometown, but here I have studied to speak with clear pronunciation. I've learned to understand a lot of different English accents and that's helped me to listen and speak better. The teachers take care of every student and there's lots of learning equipment available.