If you're looking to study English in New Zealand and are considering living in Wellington, then you're in for a treat. Our capital city is bursting with interesting things to do and see. Today, we're going to highlight five must-do activities in Wellington. Here we go…
1. Te Papa
Te Papa is Wellington's world-famous museum located on Cable Street, with Lambton Harbour as a backdrop. A morning or afternoon spent at Te Papa is an ideal way to get an educational insight into New Zealand's history, culture and even some contemporary themes.
Known officially as Museum of New Zealand Te Papa Tongarewa, Te Papa is noted for its modern and interactive approach to its exhibitions, making them very interesting.
2. Wellington Markets
Wellington has an abundance of top-notch markets for its locals and visitors to choose from. The Wellington market with maybe the nicest setting is the Harbourside Market, which runs along the waterfront between Chaffers Marina and Te Papa.
Operating for over ten years, this iconic market takes place every Sunday and often attracts up to 10,000 visitors! If you join the crowd expect to see a huge range of food and drink from local suppliers. Think fresh fruit and vegetables, deli meats, cheeses, fresh fish, and of course: coffee!
If you'd like to keep the market mania going you can stroll north along the waterfront and take in many more weekend markets between Te Papa and Frank Kitts Park, including the Wellington Underground Market.
3. Parliament
Wellington is home to New Zealand's parliament buildings, where our government is located. The centrepiece of the parliament buildings is the iconic Parliament House, known affectionately as 'the Beehive' due to its interesting shape.
Positioned in the suburb of Thorndon, the parliament buildings are worth a visit, even for those with no interest in politics. Public tours of Parliament take place daily, on the hour from 10am–4pm. You can also walk the three-hour Heritage trail through Thorndon any time you please, with a $1 brochure available to help you find the way.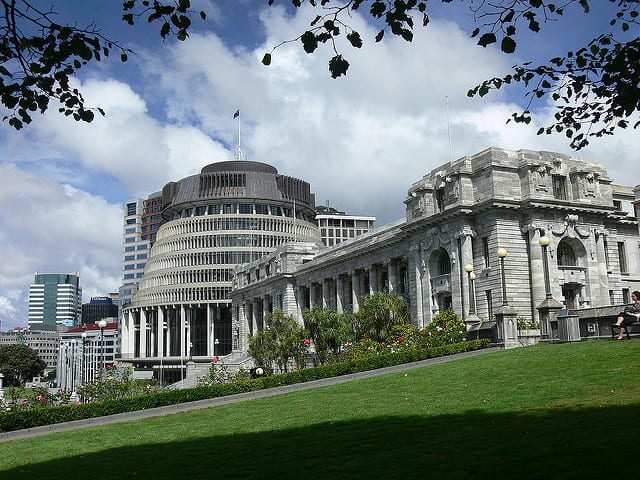 4. Oriental Parade
Boasting a beach with golden sand, the Carter Memorial Fountain and a summer town vibe, Oriental Parade is the place to be in Wellington come summertime. The Parade's wide footpath is popular with cyclists, dog walkers and runners, creating a lively atmosphere.
Oriental Parade is still a great place to visit during colder months, thanks to the brilliant cafes and restaurants in the locale. Try the seven-minute walk from Te Papa to Lola Stays, and reward yourself with a tasty brunch.
5. Weta Workshop
One of the ten film wonders of the world, Weta Workshop is a world-class design and effects facility located in the Wellington suburb of Miramar. Co-owned by Sir Peter Jackson and best known for its work on major motion pictures, King Kong and the Lord of The Rings Trilogy, Weta Workshop has won various academy awards.
You can immerse yourself in this creative enterprise with a guided Weta Workshop tour that will take you 'on a journey from Middle-earth to Tracy Island'.
Where can you study English in Wellington?
If you're looking for English language schools in Wellington, be sure to check out NZLC.
NZLC
Boasting a roomy student lounge, NZLC Wellington sits on Willis Street in the heart of the cosmopolitan city, close to amazing cafes and the famous Cuba Street. Students from many different countries enjoy a full range of courses here. They also offer a City Link opportunity if you want to study some of your time at the Wellington campus and some at their Auckland campus.
The New Zealand Qualifications Authority (NZQA) has awarded these schools Category 1 status, which means student visa holders studying 20 or more hours for 14+ weeks, can work up to 20 hours a week.
Absolutely Positively Wellington
We hope you've enjoyed our blog about our favourite Wellington activities. If you'd like to know more about the city or need some help in selecting an English school there, please reach out to us for more information.
Images:
'Wellington Market, New Zealand, 13 Dec. 2009' by Phillip Capper, via CC BY 2.0.
'Beehive and Parliament house, Wellington, New Zealand' by Peter, via CC BY-NC 2.0.