If you've just arrived, or even if you have been enjoying New Zealand these past few months, you will find from time to time you hear a word – or several in a row – said by your Kiwi friends that will lead you to scratch your head and wonder what they mean? New Zealander's have a unique and wonderful slang, playful, fun and much of it is shared with Australia. With the guide below you'll be 'bantering' in no time, joking with the locals and fit to travel.
Let's start with Kiwi, as this is not that lovely green fruit you had for breakfast. As mentioned above, it can refer to your new local mates, a native New Zealander, or our country's national bird. If it's fruit you are after, call it kiwifruit.
And since we are on the topic of food, Kai is a Maori word for food. You will definitely be working up an appetite with all the nature and adventure our fine country has to offer (between study breaks of course). If you are looking for some fast food after a late night study session or day of mountain biking you'll find that McDonald's is referred to as Macca's and mince is our term for the ground beef that makes up that tasty burger which of course will come with hot chips (French fries). You can wash it all down with a fizzy drink which back home you might call a soda or pop, depending on where you are from. If you are looking for just a cold drink or icecream, then you might head to a dairy, which refers to mini supermarket or corner store.
If you are planning a fine day out at the beach, you will want to wear your
jandals (sandals/flip flops) and togs (bathing suits), and grab a towel. You can keep your cold drinks  in a chilly bin (a cooler for keeping drinks cold).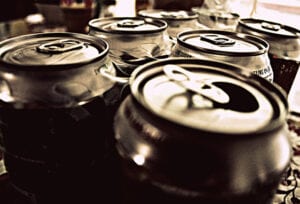 Let's hope your day to the beach and on the waves is not choka block because that would mean it is crowded and busy and you've got to share that excellent surf.
And finally, whether you've had a long exciting day or amazing English lesson, one of the best things to know how to say (in any language) is thank you – in Kiwi slang it's Ta.
Photos
Shell and Jandals by Aaron Simonsen, CC BY 2.0