Although New Zealand is a small country, it is big on culture. New Zealand offers a range of outdoor activities, beautiful scenery and unique history. However, for New Zealanders or 'kiwis', food plays a key role in traditions and how we interact in everyday life.
There are some must-eat foods that kiwis all know and love. These range from traditional Māori cuisine to savoury and sweet treats.
Traditional Māori foods come from the land and the sea. A 'Hāngi' is a traditional meal shared among a wide group of family and friends. It consists of root vegetables such as potatoes and kumara as well as a variety of meats like chicken, pork or lamb, which are placed in baskets and lowered into a hole in the ground. The hole is filled with hot rocks, the baskets are covered and the earth is replaced. The Hāngi is left to cook underground for several hours then dug up and served steaming hot.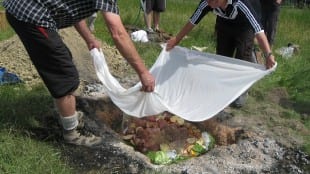 'Kaimoana' or seafood is also common in New Zealand as we are surrounded by ocean. Popular seafoods include mussels, pipis, tuatua, bluff oysters, kina, paua and if you venture up river 'Whitebait' is considered a delicacy often made into 'Whitebait Fritters'.
A classic kiwi meal is 'Fish 'n' Chips' where fresh fish is deep-fried in batter accompanied with hot fries and served wrapped in newspaper. Fish 'n' Chip shops are scattered around the country and if you're not sure which shop makes the best, ask the locals. Fish 'n' Chips are often taken to the beach to eat together or to a picnic bench with a nice view, and are great with the addition of tomato sauce or vinegar.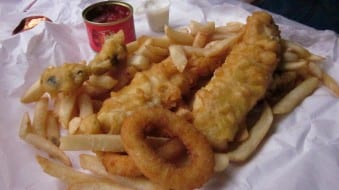 Another communal form of eating is what New Zealanders call a 'Sausage Sizzle'. Sausages are cooked on the barbeque, placed in a slice of bread and drenched in your choice of tomato sauce, mustard or onions. Sausage Sizzles are commonly used for school fundraisers or charity events, each sausage in bread costing about one or two dollars.
Other savoury favourites include sausage rolls, which is sausage meat wrapped in pastry, and the traditional hot meat mince pie. These are always fully stocked at the local 'dairy' (a small local food store), and are a common and tasty choice among kiwis.
New Zealand also has a delicious range of sweets and desserts. 'Whittakers' is the country's favourite chocolate manufacturer, blocks of this yummy chocolate can be found in any supermarket across the country. One of our most popular sweets or 'lollies' are Pineapple Lumps. These are pineapple flavoured chews coated in chocolate. Because of their popularity and recognition in New Zealand, packets are often sent away as gifts to Kiwis living overseas. 'Jetplanes', 'Hokey Pokey' and 'Chocolate Fish' are other popular confectionaries.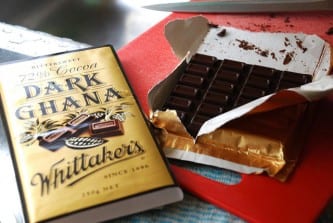 However, our number one traditional dessert is the 'Pavlova'. There is competition over the founder of this cream-coated meringue topped with fruits, Australia often laying claim to its invention. But as far as kiwis are concerned Pavlova is a New Zealand creation, normally shared on special occasions such as Christmas.
Food is a favourite for kiwis; social occasions are always filled with foods and many hosts may ask you to 'bring a plate'. This means to bring a plate full of food to share. It is often customary to bring food or wine if you are being hosted. For an alcohol free option 'L&P' is a lemon flavoured soda with a twist and is also a favourite beverage.
No matter where you go in New Zealand there are plenty of traditional and tasty foods to try and to be shared.
Photos:
EDC Hangi 2010 by Sarah Stewart, CC BY-NC-ND 2.0
Fish and Chips at Te Araroa by Jennifer Brown, CC BY-NC-ND 2.0
Whittaker's Chocolate by ccyhan, CC BY-NC-ND 2.0