Deciding where in the world to study English is a tough decision. New Zealand is a country with no shortage of vibrant towns and cities where you can combine your English studies with exciting and entertaining activities and attractions. One such town known for its must-see beauty is Nelson, located at the top of New Zealand's South Island.
Here are five must-do activities and attractions to check out in and around Nelson, New Zealand.
1. Explore Abel Tasman National Park
Despite being New Zealand's smallest National Park, Abel Tasman is easy to access and has a variety of both relaxing and adventurous attractions.
Here you can take scenic walks through native bush to the sounds of native birdsong, kayak or take a sail on crystal blue sea waters and stay in Department of Conservation (DOC) huts or private lodges at Awaroa or Torrent Bay on multiday hikes.
Learn more about what to see and do in Abel Tasman National Park.
2. Visit National WOW Museum & Classic Cars Museum
This unique museum houses two collections that you might not think go together, but they share two distinctive traits: imaginative design and creative flare. The World of Wearable Art and Classic Cars Museum is home to 140 vintage, veteran and classic cars; and more than 60 wearable art garments.
After your eyes have feasted on the exhibits you can give your stomach a feast of fresh fine food and locally roasted coffee at the onsite café. The bespoke building — a design feat in its own right — features a tranquil pool you can eat beside on nice days.
3. Cycle Tasman's Great Taste Trail
A 174km network of cycleways, Tasman's Great Taste Trail works its way along the beautiful coast and inland through towns and cities including Kaiteriteri, Motueka and Nelson. The trail can be broken up into day-rides depending on how many of the en route art galleries, wineries, fruit stalls, craft beer breweries and fish and chip shops you'd like to visit.
Bike hire and tours are available, and the trail requires careful planning to make sure you see the venues you want to and can match your ride duration to your level of fitness.
Find out everything you need to know to plan an enjoyable trip along the Great Taste Trail.
4. Head to Golden Bay
Golden Bay is somewhat of a jewel in the crown of the Nelson region. Highlights include: golden sand beaches like Wharariki and Farewell Spit; exquisite scenery in the form of Wainui Falls, Ngarua Caves and Te Waikoropupu Springs; and delectable food options like the freshly steamed mussels at the Mussel Inn, and the chance to catch your own lunch or dinner at Anatoki Salmon.
Read more about Golden Bay attractions.
5. Visit Kaiteriteri
Kaiteriteri Beach is just under an hour's drive from Nelson. The popular holiday destination for New Zealanders is a must-visit destination for anyone based in Nelson or passing through the area.
The beach is in a bay of islands with calm turquoise water, ideal for kayaking or stand-up paddleboarding on a sunny day. We highly recommend this, a swim and simply relaxing on the golden sands.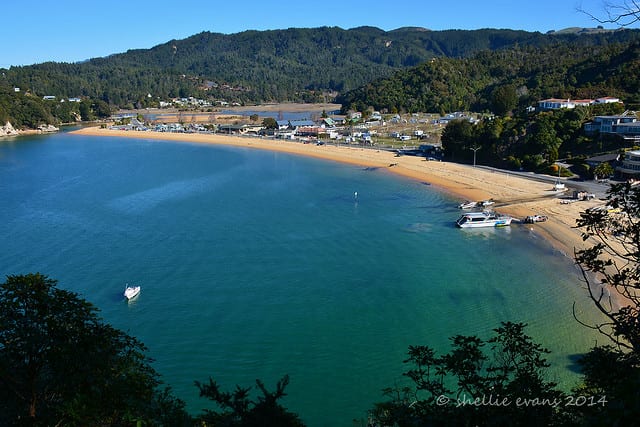 Images:
'Golden Bay' by escarcanco via CC BY-ND 2.0.
'Kaiteriteri Beach, Tasman Bay' by Shellie via CC BY-NC-ND 2.0.